TOOLS: Illustrator, Photoshop, After Effects.
MY ROLE: Designed and animated logo, designed website, business cards and fliers. 
A friend of mine approached me with a design request. She just opened a school for Italian language for kids and wanted to create an identity and a website to promote it. 
And these are all the things she wanted to include in the logo somehow: Italian flag colors, red barn in a nature setting, kids, and education. And after several iterations, voilà! – I managed to combine all these things in one logo and my friend was very happy with it. 
And then we decided to animate it for promoting it on social sites. 
Next was the
website
. She wanted to use some stock photos of kids with books and kids having fun, but I suggested she did a photoshoot of the actual building and the kids learning and having fun. And she loved the idea and sent me some great photos. But I decided to push it even more and added Italian words on top of the images to make it more fun. After all, that's how you learn a new language, you point to things and ask "what is this?".  
And the last touch was kids drawings in the footer. Since the school is pretty much in a forest she wanted to add some cute pictures of local animals, like squirrels and moose. And so I suggested that her kids drew a few pictures of the local fauna and we could add them to the site. And that's how we ended up with these cute animals at the bottom of each page.

Once the design was approved, I collaborated with a developer to produce a fast and responsive website.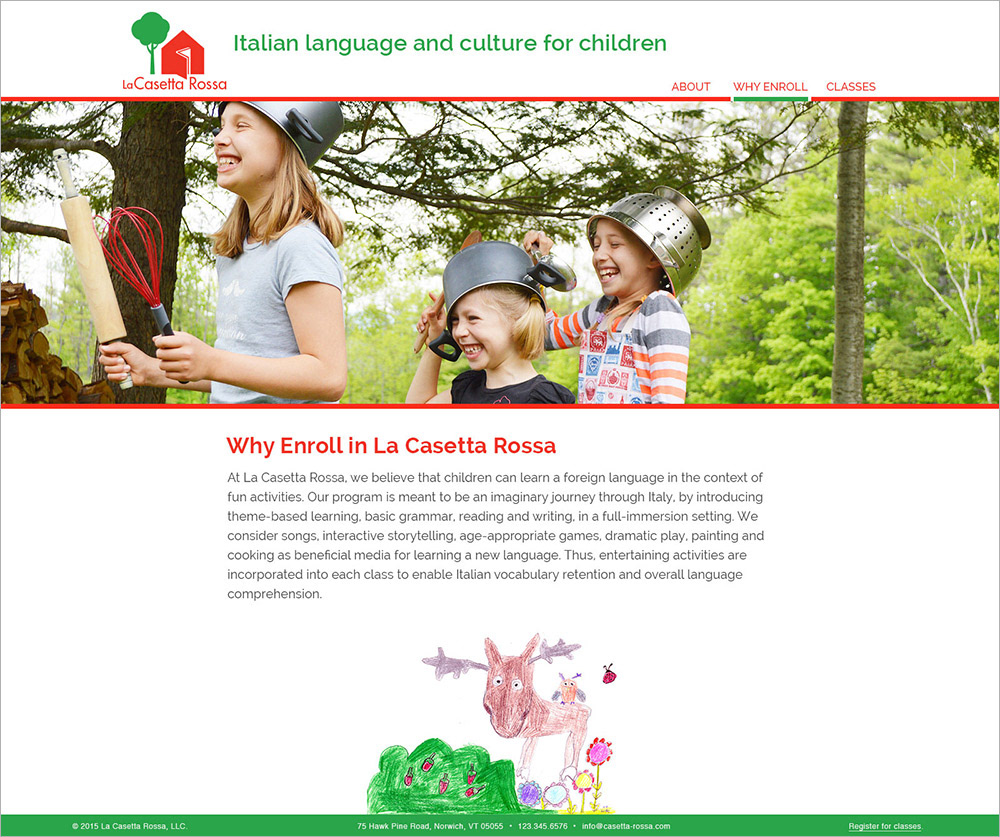 So overall, I believe it turned out really well. It definitely says "Italian" and "children". It's clean and easy to understand. And the most important thing, the client is really happy with it